We're proud to feature the student leaders who through the work in their student organizations, have personified the commitment and goal of Stephen Cohen  - to eliminate discrimination and build a more inclusive community – on campus and beyond. These students were nominated by their peers, faculty and staff and were selected from an outstanding candidate pool. We congratulate them and thank them for their accomplishments during the past year!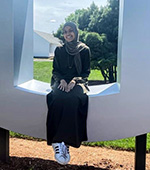 Safiya Chowdhury
Safiya Chowdhury (she/her/hers) is a senior majoring in Nutritional Sciences. She is the Senior Advisor (2022-2023) of the Muslim Student Association - Hartford. One of the ways that she has utilized her position to advocate for Muslim students on campus has been to educate students, faculty, and staff through a variety of forms, for example, on the holy month of Ramadan and how it can impact students' academia. Additionally, serving as a voice that advocates for to students to reschedule their finals for Eid. After graduating, she aims to get a Master's degree to become a registered dietitian. Her main goal in getting an education to help others, specifically those with the same medical condition she has, Crohn's Disease.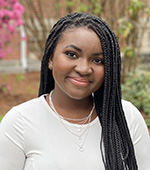 Derby Egyin
Derby Egyin (she/her/hers) is majoring in Human Rights and Sociology, and minoring in Women, Gender, Sexuality Studies and Africana Studies. She is the President of the Student Union Board of Governors (SUBOG). As the President of SUBOG, Derby actively prioritizes incorporating intersectionality, diversity, and inclusion into every aspect of the organization. After her undergraduate education, she plans on attending law school in hopes of obtaining a Juris degree in human and civil rights. Her goal is to become a civil rights attorney to combat a tumultuous society, in which discrimination and prejudice are rampant. She wants to fight for equality, human rights, justice, and social freedom.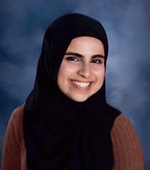 Yaqeen El-Mozraawi
Yaqeen El-Mozraawi (she/her/hers) is a junior studying Management Information Systems and Psychology. Yaqeen is the current President of the Muslim Student Association (MSA) – Hartford. MSA events are organized with an objective of strengthening the ties between all general members on campus, to ultimately unite people based on humanity and acceptance of diversity. Through their event planning, Yaqeen and her executive board aims to create an environment both familiar to Muslims and comfortable to non-Muslims. Yaqeen ensures that resources are utilized in a way that does not discourage but rather encourages others to want to be part of the community. Her goals for the future include continuing to bring people together.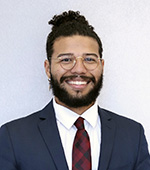 Carlos J. Hurtado Muñoz
Carlos J. Hurtado Muñoz (he/him/his) is a senior majoring in Biomedical Engineering. As the current CEO of UCTV and the previous Chief Diversity Officer, Carlos has been committed to uplifting all marginalized communities of students on campus by providing a safe space that values diverse perspectives. Carlos is interested in pursuing a career as a Physician scientist (M.D/PhD), he aims to advocate for social justice in medicine as it is a field that has historically been white dominated. He is passionate about health disparities and how they affect diverse patient populations.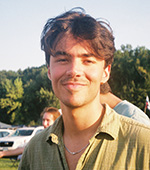 Musa Hussain
Musa Hussain (he/him/his) is a senior double majoring in Political Science and Sociology. He is president of the Environmental Justice Front (EJF) and has worked in that role to make the climate movement on campus more inclusive, accessible, and interconnected. He worked to forge closer bonds between student activist groups, the undergraduate student government, and administration to advance university sustainability goals. In the future, he hopes to continue his work in climate activism while combining this with a passion for public policy research and creation.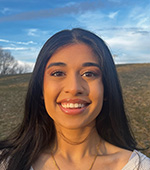 Zaiba Khan
Zaiba Khan (she/her/hers) is a senior majoring in Molecular Cellular Biology and minoring in Spanish. Zaiba is the President of Huskies for Refugees. As a member of Huskies for Refugees, she plans and collaborates with organizations to offer refugees access to healthcare, education, and employment. She leads the tutoring program that connects UConn students with high school-aged refugees, promoting understanding and empathy. Post-graduation, Zaiba plans to pursue a career in medicine as a healthcare provider. She specifically hopes to provide health care to marginalized and underserved communities.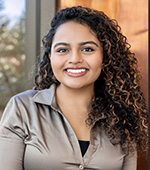 Nidhi Nair
Nidhi Nair (she/her/hers) is studying Economics and Mathematics-Statistics. She is president of the Economics Society. As a Schwarzman Scholar from the University of Connecticut, Nidhi's goals for the future include pursuing a master's degree in Global Affairs in Beijing. Her goals are to revitalize inclusion efforts in the field of economics, which continues to be the least diverse social science in the United States. As a female, immigrant economist, she hopes to carve out spaces for people like her in the field, and by renewing the undergraduate-to-graduate pipeline, she is eager to improve equitable economic policy in low-income American communities.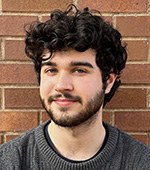 Owen Silverman
Owen Silverman (he/him/his) is a senior majoring in Philosophy & Human Rights. He is the Editorial Director and an Executive Board member of Nutmeg Publishing. One of Owen's goals as a member includes ensuring that the yearbook and magazine accurately reflect the identities and experiences of the student body. Owen's plan post-graduation is to work in publishing —he hopes to contribute to the ongoing resistance led by unionized workers within the industry, as well as outspoken authors and external editors, to further decolonialize a field in which the voices of marginalized writers often remain unheard.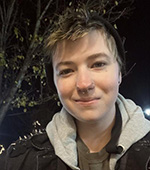 Ashten Vassar
Ashten Vassar (he/him/his) is a junior majoring in Human Rights and Psychological Sciences and minoring in American Studies. He is the Accessibility Officer for UConn Unchain. He is passionate about disability justice, history, and liberation, and works to create student organizing spaces that are accessible and value the diverse needs as well as lived experiences of students. He also strongly advocates for community care approach to health initiatives. After graduating from UConn, Ashten plans to pursue graduate school in archival work and continue advocating for community care and deinstitutionalization through harm reductionist lens.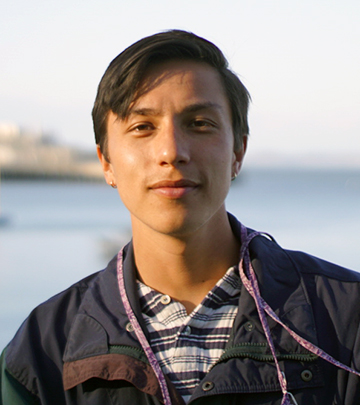 Michio Agresta
Michio Agresta is a senior majoring in Natural Resources & Environment. He is the current President for UConn Fridays for Future and the Historian/Treasurer for UConn Collaborative Organizing. Michio's work through his registered student organizations has been heavily focused on environmental justice activism, as he has worked to create an intersectional environmental movement that centers social justice. His passion for environmental and social issues stemmed from seeing the faults within the University and State to properly address these issues so he made it his mission to address these faults.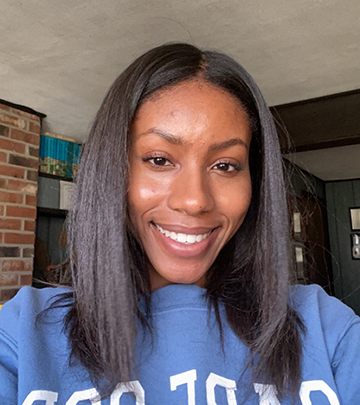 Jalyn Brown
Jalyn Brown is a junior studying Political Science, and she is the current Vice President for Creating Caring Communities (CCC). Through CCC, she has worked to eliminate stigma and prejudice surrounding students who experience food or housing insecurity. She has also worked to support and create a safe space for students who have resided in the foster care system, identify as independent, or experienced homelessness. As a student who has experienced issues that CCC advocates for, Jalyn knows it is essential that students from underrepresented backgrounds are heard and are allowed a space to feel safe.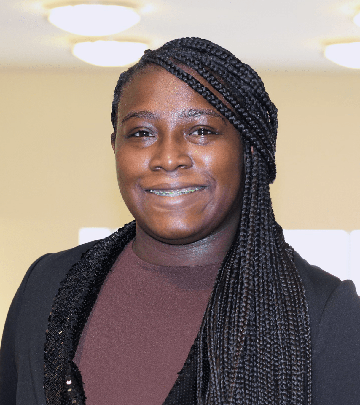 makayla dawkins
makayla dawkins is a junior and has an Individualized Major in Gender, Sexuality, and Health Disparities. She is a Sexual Health and Education Advocacy Coordinator for the Undergraduate Student Government at Storrs Campus. Her goal in this position is to provide intersectional and accessible solutions to concerns surrounding menstruation, LGBTQ+, gender empowerment, and safe sex education. Throughout makayla's community service journey, she has realized the health disparities marginalized communities face and used her frustration as a driving tool in her role. makayla has been able to drive intersectional change by providing resources to those that have been excluded or forgotten and used empathy and humility to talk about taboo issues. She doesn't want this to be an extracurricular activity, but a lifelong commitment.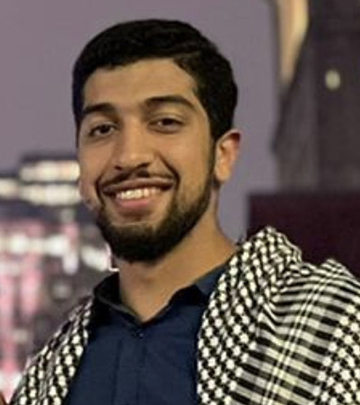 Muhammad Yasser Elsabbal
Muhammad Yasser Elsabbal is a junior studying Political Science. He is the President for UConn Hartford Muslim Student Association (MSA) and the Diversity Chair for the UConn Muslim Student Association at Storrs. Since taking on the responsibility of President of MSA at Hartford and Diversity Chair at Storrs, Muhammad has come up with & led initiatives to tackle unaddressed human rights issues and Islamophobia. He has also helped initiate the UConn Muslim Union to unite all of the Muslim voices across UConn. Muhammad has committed to continue to take matters into his own hands and start from the inside out by stepping up to the plate and delivering to his community when acts of bigotry occur.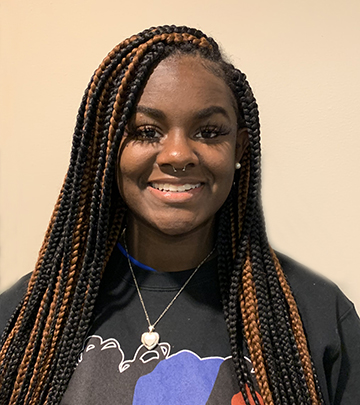 Nellie Francis
Nellie Francis is a senior majoring in Accounting & Spanish. She is a part of The National Association for the Advancement of Colored People and through this organization, she has done a lot of work on voter's rights & outreach. Nellie co-chaired the civic engagement committee on the state level and was able to host successful phone banking sessions to spread awareness about the 2020 elections and how people can register. She does this work because it's important for her to help those who do not have the resources to learn about things such as voter suppression, how to check one's voter's registration status, and much more.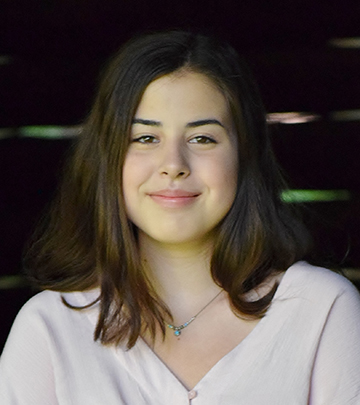 Samantha Gove
Samantha Gove is a sophomore working towards her Human Rights and Sociology degree. She is currently the Secretary of the Native American and Indigenous Students Association (NAISA). Samantha's efforts have revolved around increasing resources for Native and Indigenous students on campus and raising awareness for anti-Indigenous violence through her position in NAISA and UConn's Native American Cultural Programs. As a young Mashantucket Pequot Indigenous rights activist, she has been determined to build a sustained community of Indigenous students at UConn. She knows the struggles that come with navigating education as a Native student, so she works to ensure that prospective students have ample resources to support their success.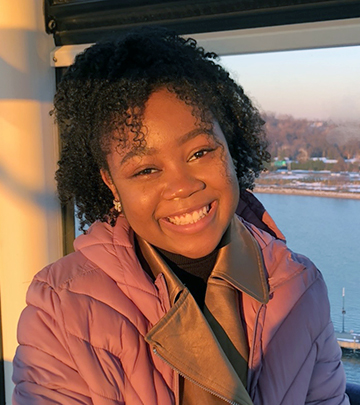 Angel Ojide
Angel Ojide is a senior majoring in Nursing. She is Public Relations Director for Global Health Spaces on Campus, and Concert Committee Member for the Student Union Board of Governors (SUBOG). Angel's advocacy work focuses on interdisciplinary ways to establish supportive environments for marginalized groups on campus by co-hosting a workshop on Race, Identity, and Intersectionality. In addition to the workshop, she educates student leaders on ways to create a more equitable campus, fosters conversations about health inequities through volunteer work in Global Health Spaces on Campus, advocates for international artists in Concert Committee of SUBOG, and mentors BIPOC nursing students to implement more diverse nurses into the healthcare field. Her mission is to create an environment that promotes diversity, equity, and cultural competence and she desires to make contributions to both sectors with the objective of establishing a more equitable setting for all people regardless of their background.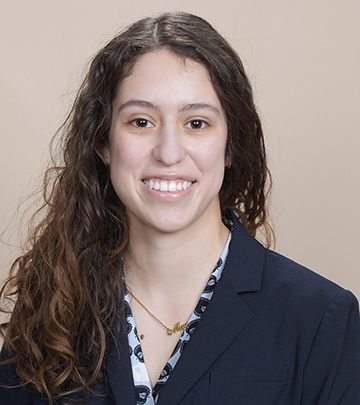 Heidi Pineda
Heidi Pineda is a junior studying Political Science and Latino and Latin American Studies. She is a member of the Central American Student Association. Through this organization, she has planned intentional events that were inclusive of 7 different Central American countries, all of which have diverse cultural backgrounds and traditions. She centers education as a form of creating unity and uplifting marginalized voices within her community and the greater campus. Her reason for her activism on campus is to create community within Central American students, empower members within her own space, and educate the campus about their group.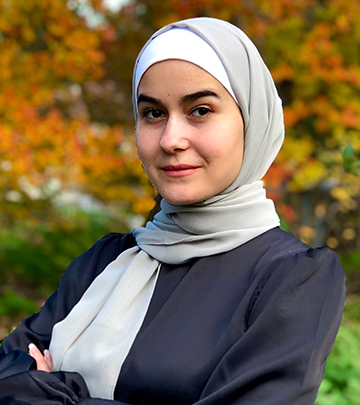 Asija Qyteza
Asija Qyteza is a sophomore studying Psychology and Political Science and is the current President for the Waterbury Associated Student Government. She is passionate about a myriad of issues, including menstrual equity. Recognizing the need for free and accessible menstrual products across UConn campuses, Asija has been working with State Representatives to pass a menstrual equity bill making menstrual products free in public institutions and have organized a free menstrual-kit distribution on the Waterbury campus. She has also worked on engaging students by organizing cultural events, such as the Albanian Independence Day event, to foster inclusivity and cultural understanding. As the Waterbury student body representative, Asija advocates for issues prevalent on her campus and fosters a community where students are given the opportunity to be involved and stimulate their interests.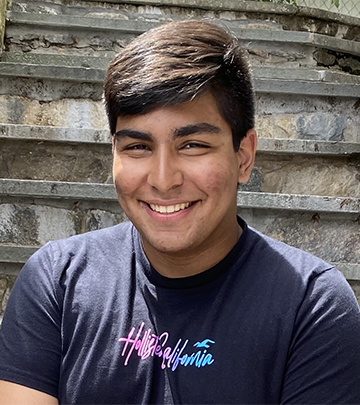 Felipe Sanches
Felipe Sanches is a senior majoring in Political Science & Latino Studies. He is being recognized for his work in the Intercultural Greek Council and the Beta Iota Chapter of La Unidad Latina, Lambda Upsilon Lambda Fraternity, Inc. The cause that he has advocated for is the empowerment of Latinx students, other students of color, and queer students through peer-mentoring, team-building, and educational programming that reflects their needs and issues. Felipe advocates for these causes because being a student of color at a predominantly white institution can be a daunting experience and he has had people who mentored him and empowered him to be the student leader that he is today. He continues to pay that forward.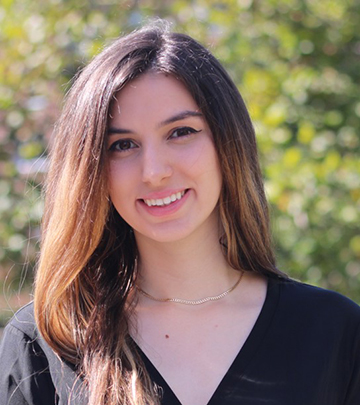 Sabrina Uva
Sabrina Uva is a senior studying Human Development and Family Sciences. She is the President of Student Government Association at the Stamford Campus and Founder of Huskies for Charity. She advocates for students to have access to necessities including menstrual products, food, and clothing. Sabrina has worked with state representatives to make menstrual products accessible. With university leadership, she has also discussed food insecurity at the regional level and has hosted a professional clothing drive that provided clothing to hundreds of students. Sabrina's passion for civic engagement fostered her ability to make an impact in the community. Since the pandemic exacerbated many social problems, her activism shines light on equity-driven initiatives that meet student's basic needs.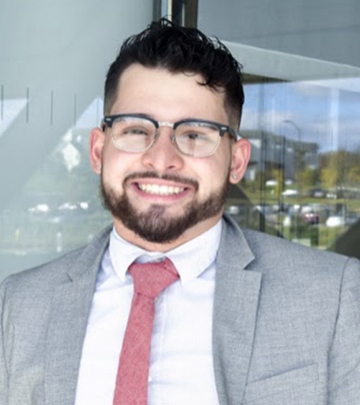 Joseph Vazquez
Joseph Vazquez is a senior majoring in Urban and Community Studies & Human Rights. He is the General Manager at WHUS Radio at Storrs Campus, where he has made it a priority to collaborate with cultural centers and provide a platform to those whose voices are not always at the table. Joseph lives his purpose by producing community-oriented content through the station and collaborating with organizations for events and promoting a campus environment that fosters support for diversity and a sense of belonging. This work is second nature to Joseph, as he has always been a community advocate. He is a firm believer in talking to a community rather than talking about it. He hopes to inspire others to advocate for social change within their local communities.
2021 Recipients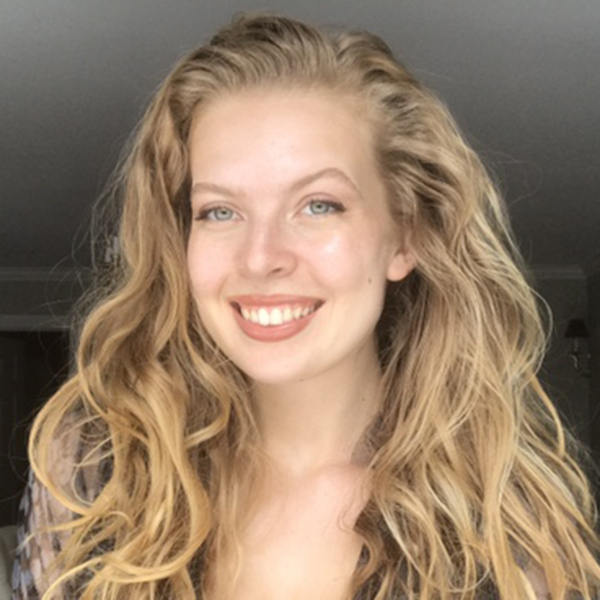 Zoe Blevins
Zoe Blevins is a junior majoring in Human Rights and German. She works with the Native American and Indigenous Student Association (NAISA). Her work has revolved around creating a safe space for their members to freely express their identities while also helping the community have better access to mental health resources. She was introduced to NAISA via her job at Native American Cultural Programs, and was invited into the space to continue her work as an ally advocating for the rights of Native and Indigenous students at UConn.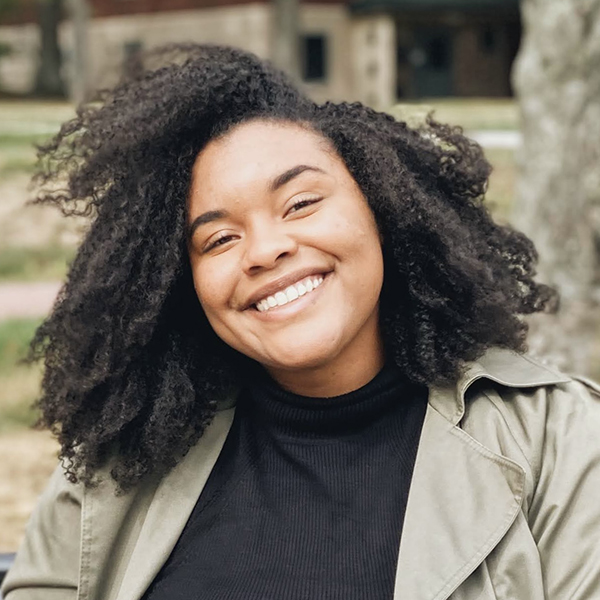 Brianna Chance
Brianna Chance is a sophomore working towards an integrated Bachelor's/Master's degree in Music Education-Vocal Performance. She is a Co-Founder and current Vice President for Creating Caring Communities (CCC). This organization has allowed Brianna to advocate for homeless/housing insecure students at UConn. Her work includes amplifying the voices of these students and connecting them with support services. When Brianna began attending UConn, she endured homelessness and felt like an anomaly. She needed a network of people who could relate. She does this work because she needed CCC to be a resource when she entered college.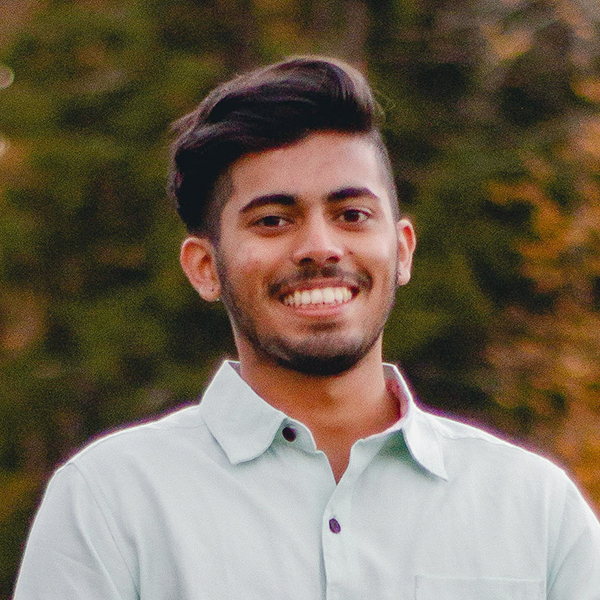 Mukund Desibhatla
Mukund Desibhatla is a senior majoring in Physiology & Neurobiology and Spanish. Growing up, Mukund had few mentors of color, especially in leadership roles. This prompted him to develop an original podcast, Agents of Change, to give voice to stories that are historically under-heard through his registered student organization, WHUS Radio 91.7 FM. Through creative storytelling, he aspires for future students to have representative role models.
Mukund understands his part in dismantling bigotry and systemic racism is by amplifying the voices and achievements of talented minority students and faculty in the UConn community. His objective is to showcase the vibrant and talented minoritized community at UConn and to encourage equity and diversity.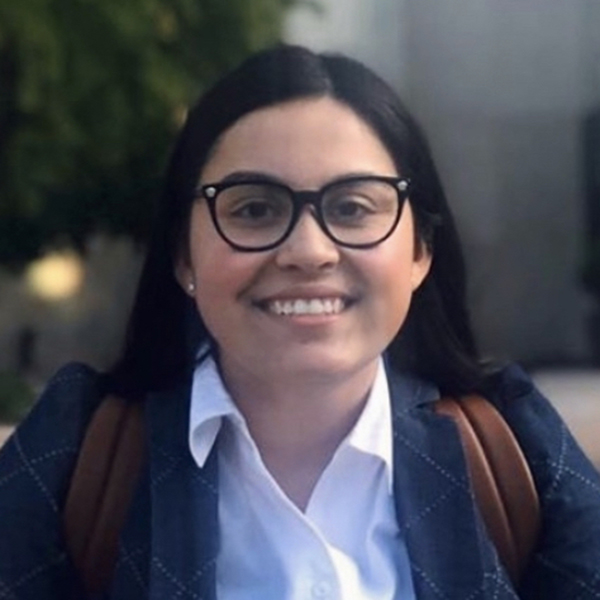 Brittany Diaz
Brittany Diaz is a junior majoring in Political Science and Human Rights. She is the current President for UConn Collaborative Organizing (UCCO). In her work with student legislation, Brittany has authored the Mental Care Act and co-authored the Reconstruction of Cultural Awareness Gen Ed Requirements. Through UCCO, she takes on university initiatives in efforts to foster an inclusive community at UConn. As a first-generation college student and as someone who is queer and latine, she aspires to use her personal experiences and struggles to advocate for other marginalized groups and people.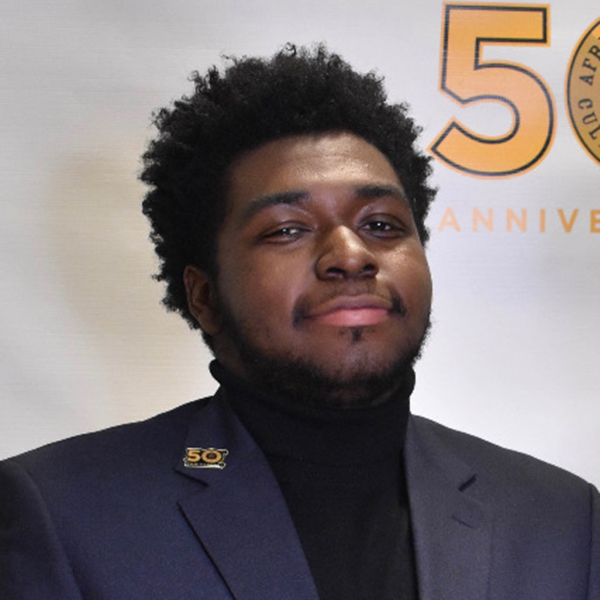 Isaiah Edwards
Isaiah Edwards is a senior studying Digital Media & Design. In order to create communities for UConn BIPOC students interested in digital media and content creation, he helped establish the organization DesignedBlack, Employee Resource Group, and UCTV Uplift. Isaiah has been a part of several organizations with talented creatives, but he would often feel intimidated by being the only Black member. The initiatives that Isaiah helped start this year are meant for students like him, who are looking for spaces where they can grow creatively and feel accepted as members.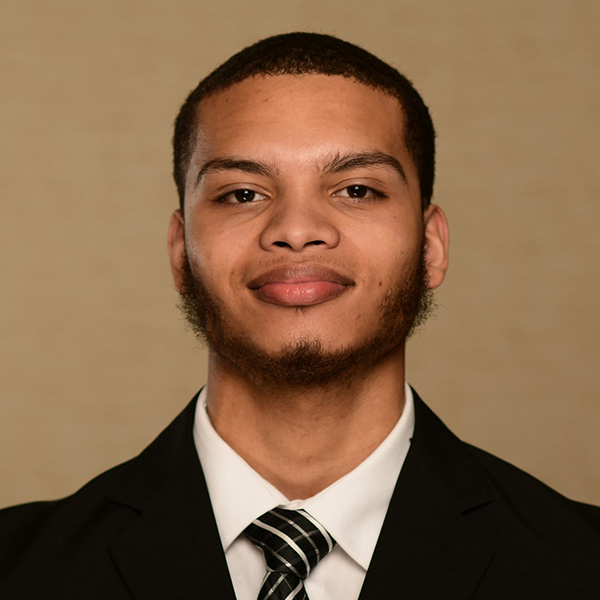 Efrain Gonzalez
Efrain Gonzalez is a senior studying Accounting. As the Chief Financial Officer of Business Leaders of UConn (BLU), he has worked with BIPOC UConn undergraduate students interested in business. At BLU, Efrain and his team help develop their members professionally to navigate the business world through its systematic prejudice and racism. Efrain dedicated his time to BLU because he is passionate about uplifting others, especially fellow BIPOCs. He has always had someone help him sharpen his skills and believe in him, and it has allowed him to become the person he is today. Efrain cannot wait to pay it forward.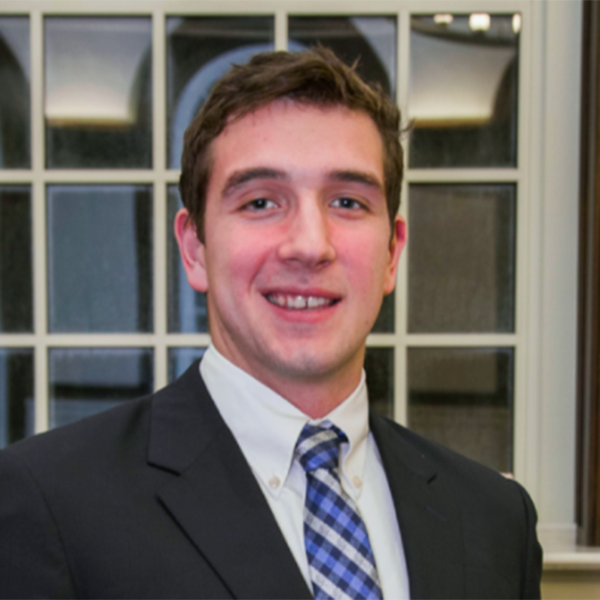 Brendan Hogan
Brendan Hogan is a senior majoring in Philosophy (Honors), Political Science (Honors), & Psychology. He works with Honors Across State Borders (HASB), as a team leader, where he fosters discussions with members around affordable housing, environmental racism, and social justice. When Brendan became Director for HASB, he continued to work to expand members' perspectives and tolerance of others by leading conversations on inclusion and anti-racism. He completed this work to help others build up their tolerance and understanding of others and break down their own implicit biases and discriminatory mindsets. Brendan's goal is to help his fellow members become more prepared to counteract discrimination and bigotry they may witness in their own lives.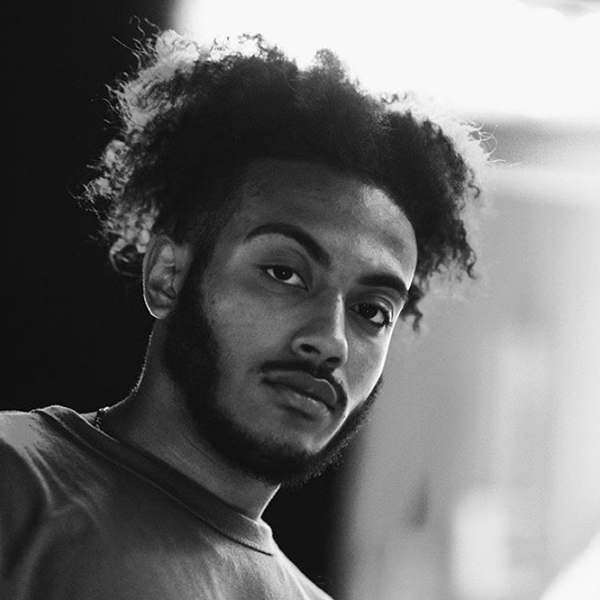 Mason Holland
Mason Holland is a sophomore studying Political Science. He is involved with the National Association for the Advancement of Colored People (NAACP), where he has worked to pass institutional legislation relating to police funding, cannabis policies, and education change. Mason also created a mentorship program within the ScHOLA²RS House Learning Community. He views the work that he does to be his life's work. Mason is invested in this work not for recognition but to benefit his community and generations of Huskies to come.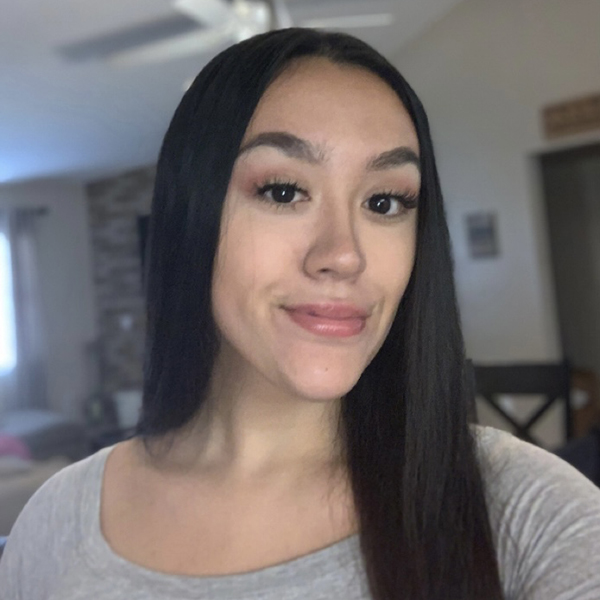 Maria Kelley
Maria Kelly is a sophomore at UConn with an Individualized Major in Law, Social Justice, and the Family. She is the current President of Creating Caring Communities, where she has advocated, obtained resources, and spread awareness for UConn students facing food and housing insecurity, family estrangement, homelessness, and experience in the foster care system. Being in the foster care system has ignited Maria's passion and love for giving back to her community. This experience is why she strives to create pathways, uplift voices, and foster understanding.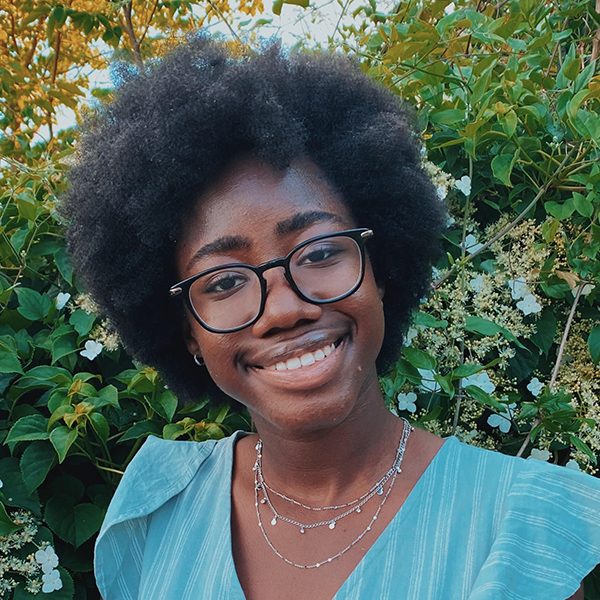 Efua Koomson
Efua Koomson is a junior studying Actuarial Science. She is the current president for Honors for Diversity (H4D), where she and H4D members have worked to expand their organizations efforts in creating an inclusive campus environment supported by their pillars: activism, community, and events. Through initiatives such as Let's Talk About That and many others, H4D seeks to advocate for students of diverse backgrounds. The rise in social and racial injustices this past year coupled with her leadership position compelled her to address issues of diversity and inclusion on campus. Change can only start within one's self, thus through engagement within the UConn community, Efua had the opportunity to share change with others.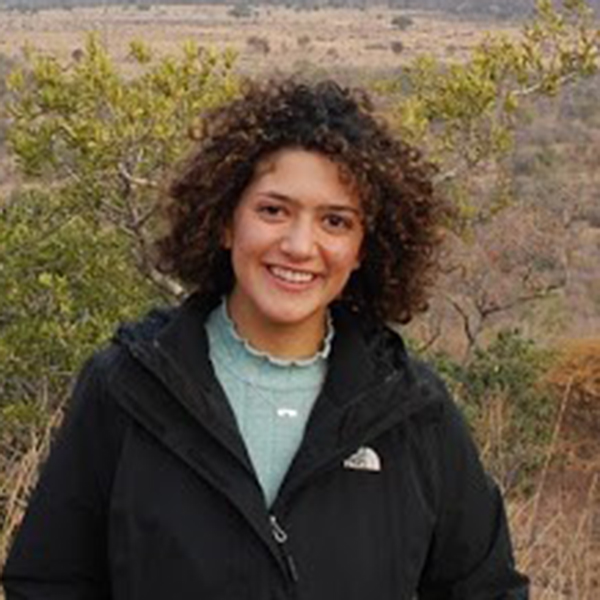 Marissa Naclerio
Marissa Naclerio is a junior majoring in Natural Resources & the Environment. She is the President of Bringing Awareness into Latino Ethnicities (BAILE) and a founding collaborator of the Planting Our Roots initiative. Her work has focused on advocating for environmental justice, celebrating community, embracing the healing effects of nature, and promoting cultural reclamation of food for students of color on campus. Marissa does this work out of radical love for her community, as well as to address important issues that have impacted her family living in Puerto Rico and Nicaragua.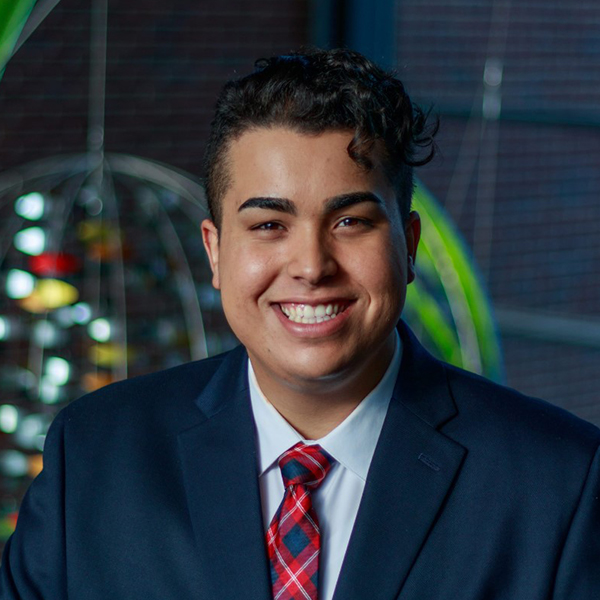 Jase Ramon Olavarria
Jase is a senior working towards a dual degree in Political Science & Urban and Community Studies with a minor in Public Policy & Latino Studies. He is the Judicial Board Justice for the Undergraduate Student Government (USG) and the Lecture Chair on the Student Union Board of Governors (SUBOG), where he has collaborated with cultural centers through empowering lectures and discussions, challenging stigma, and prejudice. Through this work, Jase has advocated for a larger multicultural voice within USG, and working with Tier 3 organizations on promoting the cultural center voice on campus. He came to this university and found alt-right events to be dominant in the campus culture, and aimed at alienating and reinforcing stereotypes of BIPOC students. Jase wanted to bring notable speakers to the university that changed this narrative to promote diversity, inclusion, and belonging on campus—which he accomplished.
Sage Phillips
Sage Phillips is a junior studying Political Science & Human Rights with a Minor in Native & Indigenous Studies. She is the founder and current President for the Native American & Indigenous Students Association. As a young panawáhpskewi (Penobscot) Indigenous rights activist, Sage has made it her mission to advocate for an expansion of resources and support for Native and Indigenous students at UConn as a land-grant institution. Sage centers her work on UConn becoming a good relative to the land it currently occupies. As a Penobscot student who knows the struggle of navigating higher education, Sage works to continue to create spaces for prospective Native and Indigenous youth to find a home along with success at UConn.
Gladi Suero
Gladi Suero is a junior in Communications and Journalism. They work with the Young Socialist Alliance and The Daily Campus at UConn. This past summer, with the Daily Campus, Gladi wrote about experiences of bigotry and sexual assault that students shared on anonymous social media accounts. They also worked to build a resource list of petitions and mutual aid funds to donate to during BLM protests as a part of Young Socialist Alliance. Gladi has completed this work because they are passionate about making the university a more equitable place for everyone. Gladi feels that the power of student activism is limitless and they want to tap into the spirit of activism that is in so many UConn students.
2020 Recipients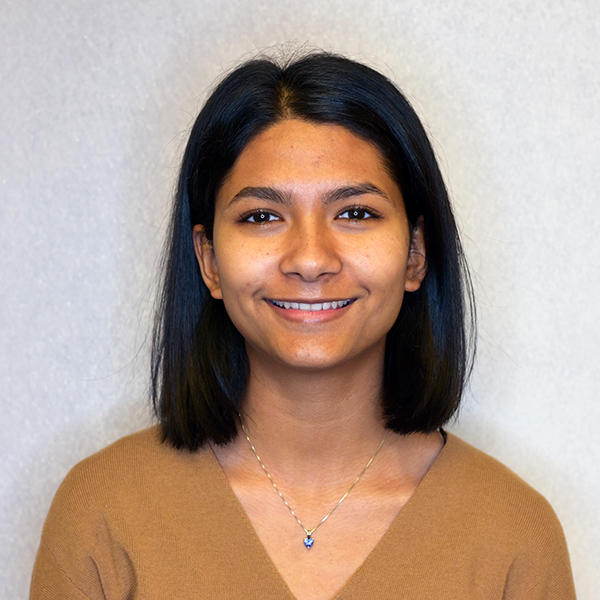 Pritisha Amatya
Pritisha, a Senior majoring in Allied Health, is the President of the Nepali Student Association. Pritisha started an initiative where members of the organization led a discussion on a topic of their choice, such as mental health or LGBTQ+ rights. She was inspired when she heard UConn students from the organization speak out about gender inequality in the Nepali community meeting. This made Pritisha realize how important the voices of her generation are, which led her to advocate for others and establish a platform for all.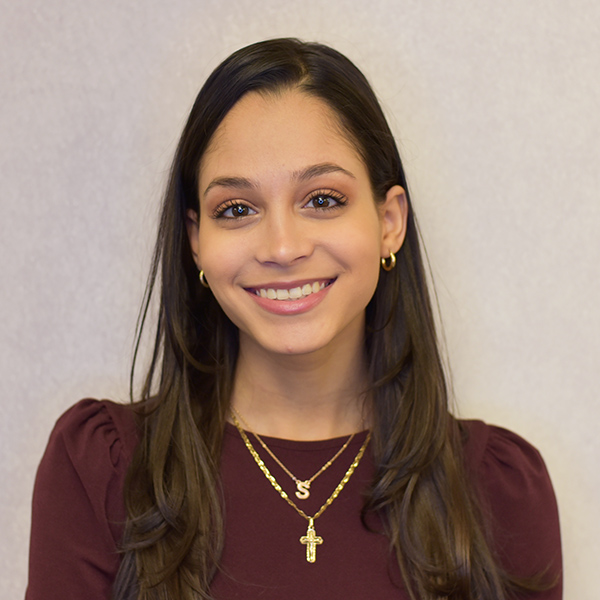 Sabrina Baez
Sabrina is a Junior majoring in Latino and Latin American Studies and is one of the founders of Distinguished and Motivated Academic Scholars (D.A.M.A.S.) Sabrina has created a brave space and led conversations where individuals with intersectional identities, especially those who feel marginalized, discuss solutions to issues affecting their communities, such as discrimination. She aspires to promote progressive change and encourage tolerance in a world full of prejudice and discrimination. She believes it is important to create connections in a diverse environment so that individuals can feel empowered and motivated to stand up for their rights.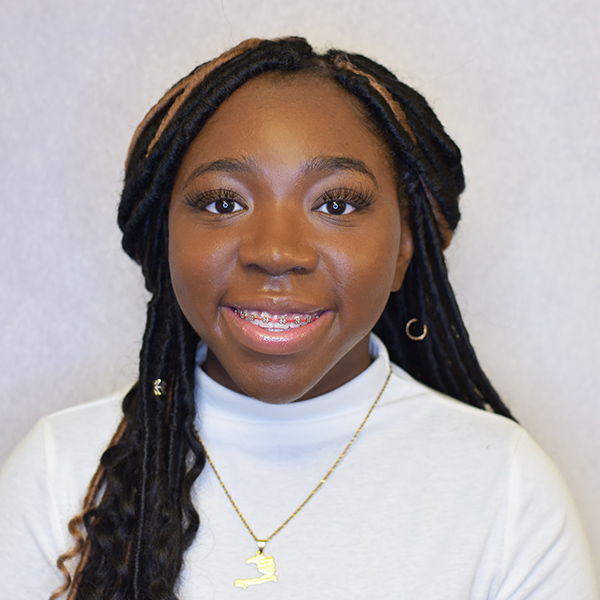 Mandy Chery
Mandy, a Junior majoring in Political Science and Africana Studies, is recognized for her work with the Haitian Student Association, the National Council of Negro Women, and Black Environmentalists for Social Justice. Mandy led discussions and planned events relating to the Haitian diaspora, environmental racism, financial literacy, black women empowerment, voter registration, black mental health, and sexual assault. She is dedicated to empowering the lives within marginalized groups through the pursuit of social justice that address intersectionality and leads to sustainable change.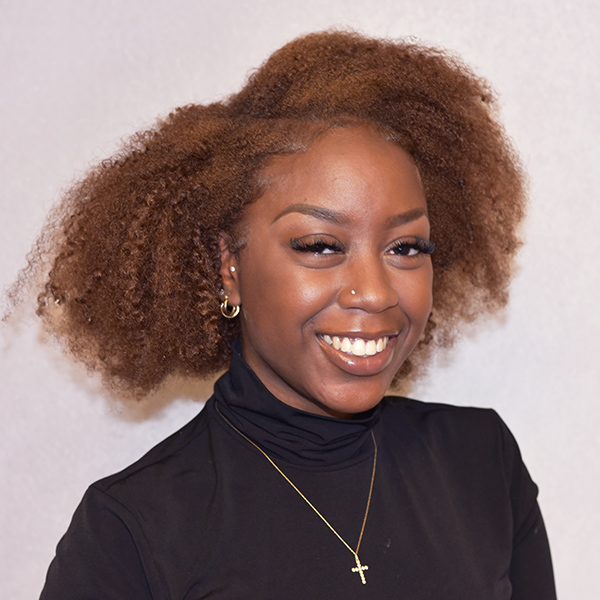 Nijae Flowers
Nijae is a Senior with a dual-degree in Psychology and Sociology and is being recognized for her work with UConn Black Environmentalists for Social Justice. As the founder of this organization, Nijae offers a safe space for students of color to discuss the impacts climate change and other social or environmental injustices have in their lives. She strongly believes that climate change is attracting more attention than ever as evidence of its severity mounts, however it is rarely discussed with its impact on minorities, exacerbating their suffering.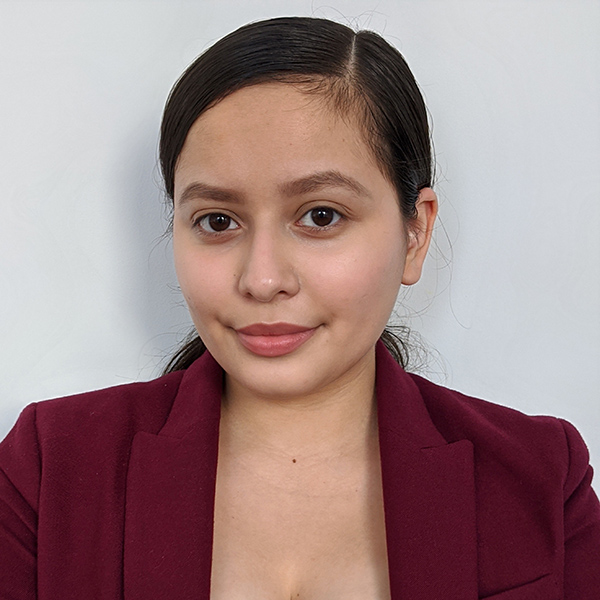 Jenifer Gaitan
Jenifer is a Junior majoring in History from UConn Stamford. She is recognized for her work as President of Husky Outreach for Minority Education (HOME), where she has given hundreds of students access to professional clothing for jobs, internships, and interviews. As a first-generation low-income college student, Jenifer is passionate about helping her peers obtain equal opportunities for academic and professional success.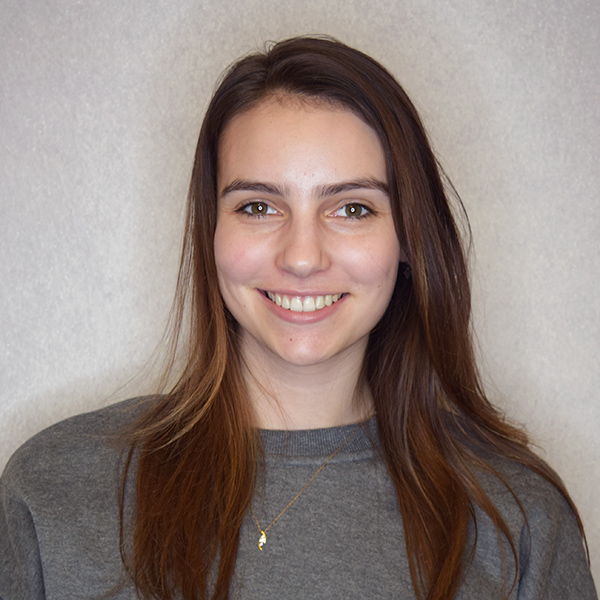 Sasha Goldblatt
Sasha, a Sophomore majoring in Management, is recognized for her work with UConn Consulting Group (UCG). Sasha advocated for a recruiting process that fairly judges all applicants and tests their understanding of diversity, while also creating a Director of Diversity position for future years to come. She believes that it is important to advocate for other people to ensure that everyone feels comfortable and valued. She says that diversity is what brings growth and uniqueness to a group.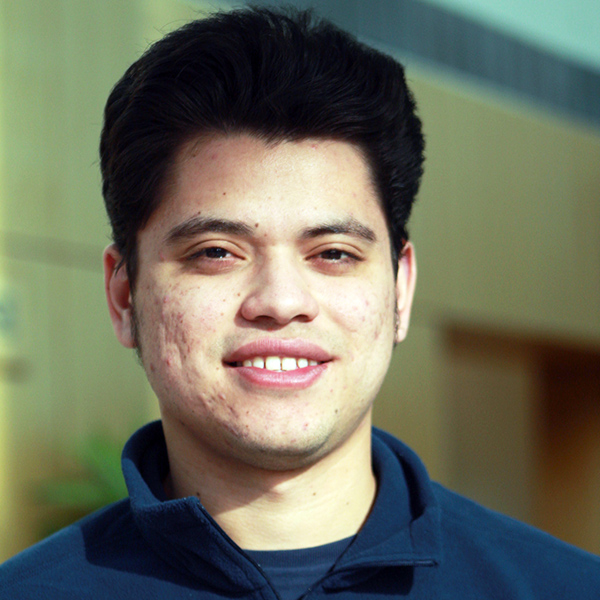 Michael Hernandez
Michael is a Sophomore majoring in Political Science and Economics from UConn Stamford. He works with the Undergraduate Political Science Association where he organized a rally to support immigrant students on campus. Elected officials, students, and professors rallied in support of DACA and immigrant rights, and students had the opportunity to share their stories. Michael believes that the rally made the Stamford campus a safer space for immigrants.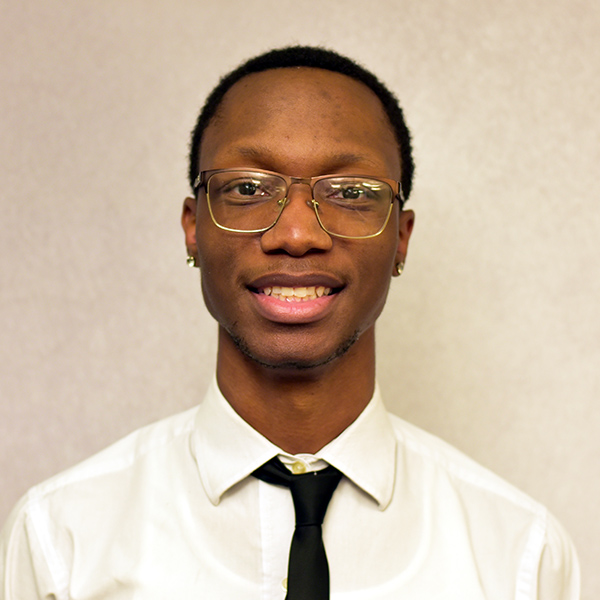 Malik Jiggetts
Malik is a Junior majoring in Communication. As the President for Brothers Reaching Our Society (B.R.O.S), Malik advocates for the struggles and hardships that black and brown bodies experience daily. He has always worked to ease the stress placed upon people of color through bonding, consolation, and support. Malik believes that it is the unspoken obligation of people of color to uplift and speak up for one another in order to make life easier for those who walk a similar path.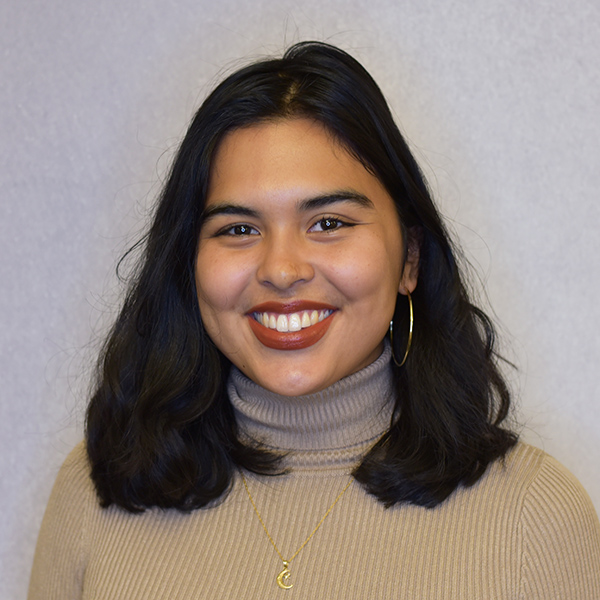 Siara Maldonado
Siara is a Junior majoring in Global Health with a minor in Urban & Community Studies. She works with the Undergraduate Student Government (USG) as the Cultural Awareness Committee Chair in addition to her sorority, Senoritas Latinas Unidas, or Sigma Lambda Upsilon. Siara has helped organize the Cultural Appreciation Series which has the goal of creating a more culturally aware campus. She has facilitated discussions on colorism, health inequities, and has committed herself to community service. She believes that without action, there can be no change. For this reason, she encourages difficult dialogue and intentional programming to uplift, empower, and reclaim power for marginalized groups.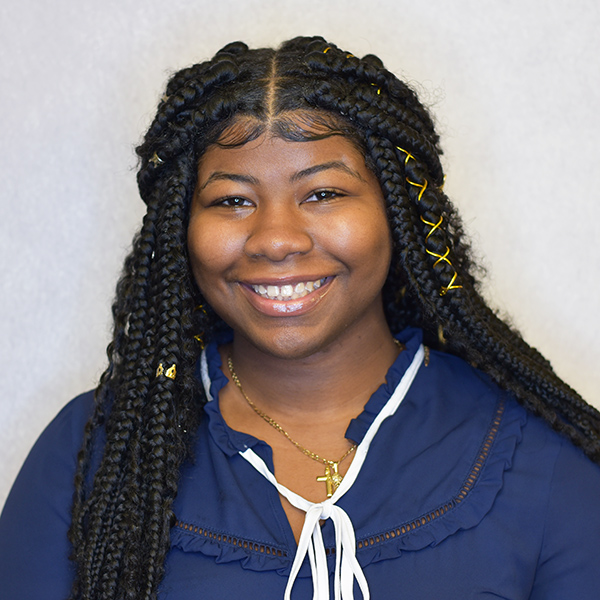 Guymara Manigat
Guymara, a Junior, majors in Allied Health Sciences with a double-minor in Psychological Sciences and Urban & Community Studies. As President of UConn's chapter for The National Association for the Advancement of Colored People (NAACP), Guymara spearheads conversations and demonstrations centered around voter rights, advocacy, and three pressing movements on the campus: Environmental Justice, Social Justice, and Women's Rights. She believes that the advocacy of intersectionality creates a cohesive climate of activists to ignite change. Her wish is to provide an education, a voice, and a platform to take action in these intersecting causes.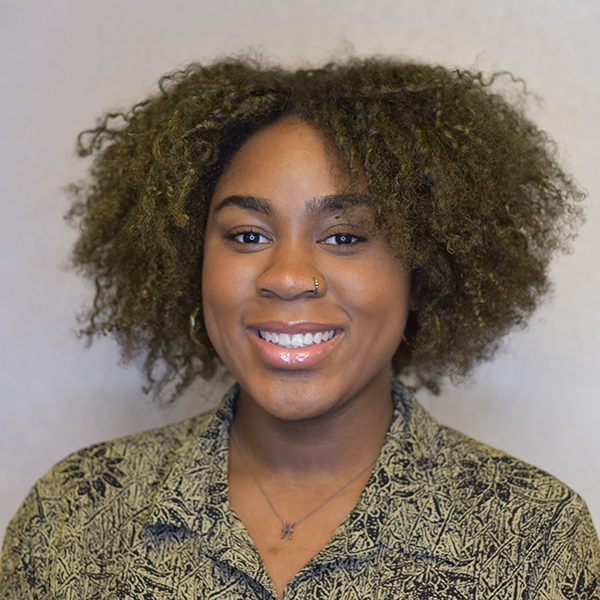 Katharine Morris
Katharine is a Senior double-majoring in Cognitive Science and Anthropology, recognized for her work with UConn Collaborative Organizing (UCCO). As the Founder and President, Katharine started the mission of organizing collective action for sustainable and intersectional solutions to social and environmental justice issues. She believes that only collaboration and solidarity can innovate change that represents everyone, leaving no person or facet of an issue overlooked. One of her favorite quotes is: "When we stand together, we rise together."
Derek Pan
Derek, a Senior majoring in Molecular Cell Biology, works with the Undergraduate Student Government (USG) and Active Minds at UConn. Derek's work focuses on advocating for student wellness, dismantling mental health stigma, serving as a student-faculty liaison to form mental health coalitions, and ensuring that all voices are heard. He recognizes that mental health issues are highly prevalent on college campuses and felt that something needed to be done to address mental health issues at a systemic level to help his peers.
Natalie Roach
Natalie is a Junior majoring in Environmental Sciences who works with Revolution Against Rape (RAR) and the Sustainability Subcommittee of USG. Natalie focuses on the intersectional, collaborative activism around climate justice and against sexual violence and rape culture. Through RAR and college friends, Natalie has seen the violence that rape culture causes, especially to people already oppressed by society. Through these experiences, Natalie has grown into a passionate advocate against sexual violence.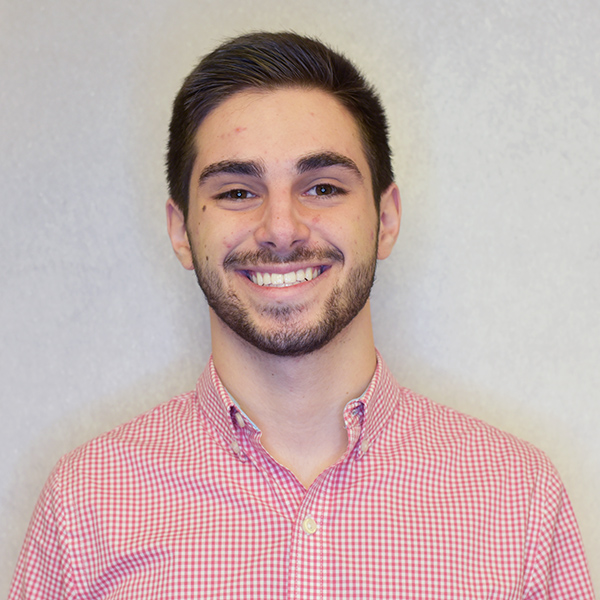 Ethan Werstler
Ethan is a Sophomore majoring in Political Science and Communications, recognized for his work with the Undergraduate Student Government (USG). Ethan works to promote and advance student health by providing fair and equitable access to healthy food as the Project Lead on the USG Task Force for Food Insecurity. He is passionate about his work for the simple belief that hunger hurts education. He believes that students at UConn should be worrying about their grades, not where their next meal will be coming from
2019 Recipients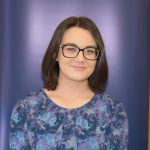 Annastasia Martineau
Annastasia is junior majoring in psychology and serves as the President of Revolution Against Rape, as Vice President of NAMI on Campus UConn, as a facilitator of Queer Collective, and as a member of Theta Delta Sigma Society Incorporated. Her work on campus is focused on providing accessible levels of mental health care and trauma support by focusing on empowerment and the intersectionality of identities. She has a strong personal connection to the work she is doing and has found a need for it in the UConn community.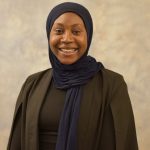 Batouly Camara
Batouly, a senior majoring in Sport Management, serves as the President of Collective Uplift. She has made it her personal mission to work to empower, educate, inspire, and support students across ethnic groups to maximize their full potential as holistic individuals both within and beyond athletic contexts. She has lead discussions on race, gender, mental health, financial literacy, and their intersectionality between sports. As a Black Muslim female student-athlete, she believes in the power of creating dialogue to foster an inclusive campus for student-athletes.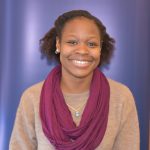 Caira Ward
Caira is a senior majoring in Human Development and Family Studies and serves as the President of Sigma Gamma Rho Sorority, Inc. As President, she has sought to eliminate prejudice and discrimination towards Black women on campus through educational programs that teach both diversity and intersectionality. She has pursued her work on campus in an effort to foster tolerance and understanding and demonstrate that Black women are worthy of respect and protection in society.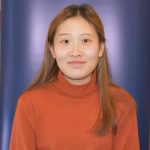 Zeqing Shao
Zeqing is a junior majoring in Psychology & Communication and serves as an executive board member in the Queer, Asians, and Allies student organization where she is the Graphic Designer, Photographer, and PAC (Pan Asian Council) representative. She has helped provide a safe and open space for the Asian LGBTQ+ community and raised queer Asian voices through recruitment, education, and activism. She believes in always trying to help the community to be more inclusive, diverse, and serve as a safe space for every individual regardless of identities.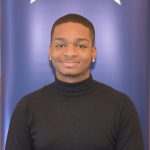 Keith Guerrant
Keith is a senior majoring in communication, and he serves as the President of the Kappa Delta Chapter of Alpha Phi Alpha Fraternity, Incorporated. He has led his organization in multiple efforts to uplift the UConn community as well as the Hartford Community. As a Black man he wants show what it means to be a positive representation for younger African American men. He has made it his mission to give a voice to those that need a push to find theirs.
Kimberly Duhart
Kimberly is a senior majoring in Elementary Education and serves as the Vice President of Leadership in Diversity (LID). Through her organization, she works to advocate for social justice and equity within the Neag School of Education. The organization works with faculty and staff to ensure that multicultural/anti-racist education is incorporated into educational curriculums, believing that all students' experiences should be acknowledged in the classroom.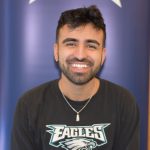 Kunal Kataria
Kunal is a junior majoring in Management with a concentration in Entrepreneurship, and he has served as Talent Director for the UConn Consulting Group. As Talent Director, he saw a need to increase representation of marginalized individuals within the student organization. He created an applicant training program to support students about consulting before an interview for the organization and established this program to foster equity of opportunity for all students and to diversify the members involved in the organization.
Nathan Schachter
Nathan, a senior majoring in Communications, serves in UConn Hillel, Hillel International Student Cabinet, and Huskies for Israel. After being targeted with anti-Semitism in college for the first time in his life, he realized the importance of building coalitions for support outside of the immediate Jewish community. Through his involvement with UConn Hillel Nathan has worked to build relationships among the campus community so that the center is not only creating experiences for Jews, but rather offering Jewish experiences for the entire campus community.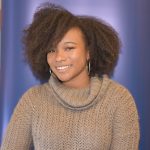 Nicole Hamilton
Nicole is a senior majoring in Management Information Systems, and she serves as the President of the UConn chapter of the NAACP, the National Association for the Advancement of Colored People. She has organized discussions about voter education and collaborates with different organizations and departments to discuss political and social issues and encourage difficult conversations. She believes progress will not happen without collaboration, which means engaging in difficult dialogues that teach people to learn, listen, and empathize with one another.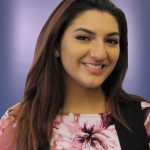 Susan Naseri
Susan is a junior majoring in Political Science and Human Rights, and she serves as the President and one of the creators of Middle Eastern Students Association. Through her involvement with MESA, she aims to raise awareness of Middle Eastern culture and to spread Middle Eastern traditions and practices across the community. She believes it is important for Middle Eastern students to feel a sense of belonging and community during a time of heightened xenophobia and Islamophobia. In MESA, she strives to provide students with an outlet to heal and grow.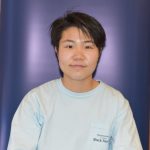 Qimei Liu
Qimei is a junior majoring in Women's Gender and Sexuality Studies and is co-founder and Vice President of Queer, Asians and Allies, which aims to provide a safe space and community for Asian and Asian American LGBTQ+ students. Qimei wants to add more voices for underrepresented Asian Queer groups and actually accomplished part of her mission by becoming the first international queer female UConn Homecoming King to break traditional gender norms/roles.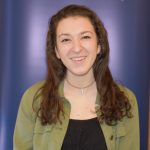 Rachel Nadell
Rachel is a junior majoring in Human Development and Family Studies and serves as the President of Unified Theater. Her organization promotes inclusion in the performing arts by collaborating with a life-skills program for adults with disabilities. The collaboration consists of writing and performing an original play together each semester. She believes it is extremely important for all people to have access to the arts and that breaking down barriers of differences through creativity and friendship serves as a gateway to a more accepting and flourishing society.
2018 Recipients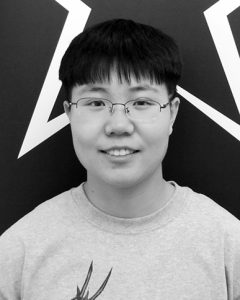 Recipient: Qimei Liu
Through her work as an advocate for the LGBTQ+ community, May is committed to educating others of the issues and needs surrounding underrepresented students of color who are Asian and gender nonconforming. An international student from China, May developed workshops, activities, and discussions around the intersectionality of marginalized identities, sexual orientation, gender identity, and overcoming obstacles and barriers within various cultural societies. May is also involved with the Asian American Cultural Center, is a mentor in the "Kids and UConn Bridging Education" organization, and serves as vice-president for the Queer, Straight and Asian club.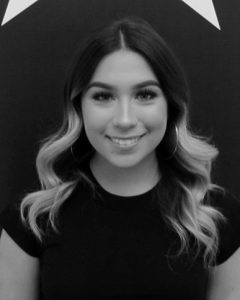 Recipient: Karen Martinez
As the only Latina member on an all-Black/African-American stepping team, the UConn All Stars, Karen has embraced this form of expression by learning about the stepping cultural roots of Africa and other Black communities. This year, Karen held an event in the African American Cultural Center titled "Respect the Step: A Conversation about Step Sisters and Why It Completely Dropped the Ball". During this event, Karen led an open discussion about the intersections of race, sororities and cultural appropriation and was able to engage with her peers on topics surrounding micro-aggressions and the importance of learning about other communities.

Recipient: Khang Nguyen
Through his work as an event coordinator and treasurer for the World Club at the Hartford campus, Khang is committed to promoting events addressing diversity and the importance of learning about and understanding other cultures through community involvement. Khang organizes events to promote equality, such as International Women's Day, and promotes awareness of various cultures and traditions through events, such as the Lunar New Year celebration. Khang participates in the campus community by serving as a husky ambassador- he has also served our country as a member of the U.S. Army.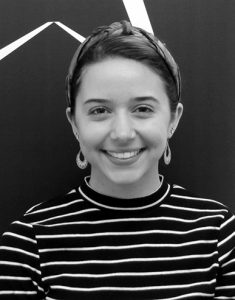 Recipient: Erica Petropoulos
As a senior majoring in Women's, Gender, and Sexuality Studies, Erica serves as president of the student organization Revolution Against Rape (RAR), where she raises awareness about sexual violence and works to eradicate gender-based violence on campus and in the greater community. Erica organizes and leads several educational awareness activities and fundraising events, such as the March to End Victim Blaming, which aims to end attitudes and beliefs that contribute to rape culture. Erica facilitates consent workshops at local high schools and also interns at Planned Parenthood.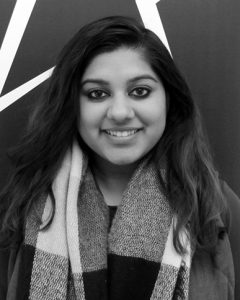 Recipient: Aziz Sandhu
Aziz is an active participant in the UConn Sikh Student Association and is also a leader in the alternative breaks program of Community Outreach and as a teaching assistant in First-Year Programs. It is through these leadership positions that Aziz has been able to share her culture and background with a broader group of students – helping to break down stereotypes and educate others about the Sikh community and its beliefs. Aziz has also been involved as a mentor as a Hayley Petit Injury and Violence Prevention Fellow at Connecticut Children's Medical Center. Through her community involvement, Aziz encourages her peers to be self-reflective and engage in empathy and understanding, rather than assumption and judgment.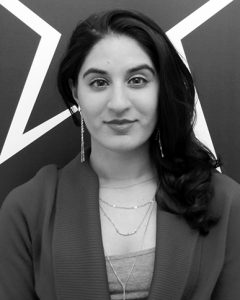 Recipient: Sarina Shafiyan-Rad
As president of the Iranian Student Association, Sarina has played a critical role in presenting a positive perspective of her culture and country on campus and addressing negative stereotypes present in society. Sarina planned and organized the Iranian New Year celebration, attended by hundreds of UConn students who ate, danced, and learned about Iranian culture. When the Muslim ban occurred last year, Sarina recognized the pain and difficulty members of her community were facing, and invited state senators to speak at the Iranian New Year event as a way to show support for the members of the Iranian society and its larger community.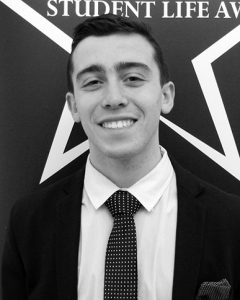 Recipient: Ryan Trager
As president of Alpha Epsilon Pi, the only Jewish fraternity on campus, Ryan is committed to raising awareness about the acceptance and understanding of Judaism. Ryan has promoted Jewish events through Hillel and Chabad to celebrate the Jewish culture and to promote the values and ideals of the organization and Judaism as a whole. Ryan has co-sponsored events including the Chabad-AEPi Purim Carnival, and hopes to continue promoting national events, such as Holocaust Remembrance Programs.